I'm a sucker for just about anything at the thrift store priced less than $3. This piece caught my eye because of the beautiful scalloped edges and also because it's lazy susan... love that spinning feature for my desk or dresser. Lucky for that because seriously, who would have picked this up otherwise?
I sanded it and got out my trusty Rustoleum Heirloom Ivory paint to turn it into a fun accessory that ended up in my craft room. This room needs all the help it can get as it's in my basement, so any amount of "cuteness" is a blessing!
It's a nice spot to enjoy my finished projects and some of my favorite supplies...
This "deer" little card is on display at the moment.
Anything shiny is fun...
and the requisite bottle of glitter (love glitter).
These orange lovelies are the basis for some seasonal magnets I have to finish. Hope you enjoyed a peek at my finished thrifty find!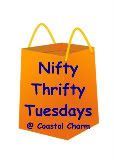 , Transform Tuesday on the Pumpkin Patch
Show and Tell
at Blue Cricket Design,
Making the world cuter today here...
Transformation Thursday at Shabby Chic Cottage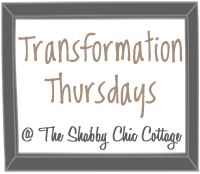 Fabulous Fridays at Frou Frou Design
and Get your Craft on Tuesday at Today's Creative Blog.